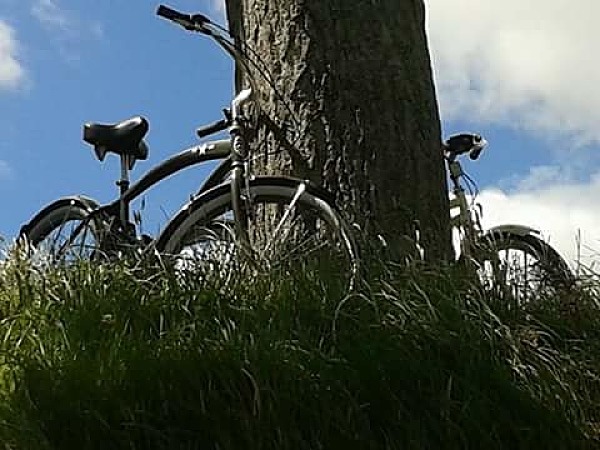 Proclaiming Waihi and Waihi Beach's attractions would take many pages, which I do aim to do over a period of time.  I do, however, need to start somewhere so would like to share the joys of spending time in the nearby Karangahake Gorge.
Having driven through this gorge in my past I had overlooked and underestimated the gem that it is.  Perched on a retro bike each (3 gears: high, medium - high and medium) my husband, Stuart, and I set off with a back pack on the Hauraki Rail Trail from Waihi Rail Station.  The old Waihi steam train operates from here so there is the opportunity to return by train if the going is too tough after a bite to eat!
It is early Summer, still a bit cold for a dip, and apart from about three small steepish parts the ride is easy as it meanders beside the stream.  Cyclists in their lycra regalia passed us and I must say, some, especially some of the women, looked longingly at our accommodating and springy seats and the upright handle bars!  We stopped and parked under some of the trees that line that part of the river to enjoy a picnic and read by the river.  Bliss!
On another occasion we have ridden on to enjoy a delectible lunch at the Bistro under the trees or at the Waikino Railway Station before heading back.
Although I do aim to complete the whole Hauraki Trail someday I am in no hurry as taking in pieces of it is every bit as enjoyable.  My friend and partner in Art Break has completed the whole trail and will share her experience soon.
Click on image below to enlarge: